Where To Find Bodhrans For Sale
Drums like the bodhran have been played in Ireland for centuries. But it's only recently that an explosion of new interest in the instrument has taken off. Nowadays, you can find bodhrans for sale all over the world, by a wide variety of makers.
When you're looking for a bodhran, be aware that there are no shortcuts. There are plenty of cheaper, inferior drums out there that will no play well or sound good. There are also some amazing bodhran makers who create custom instruments specifically designed for individual players.
Whether it's a high-end custom bodhran or an affordable workhorse, here are the best places to find both new and used bodhrans for sale online!
Where To Find New Bodhrans For Sale
You can find bodhrans for sale all over the place. Find good bodhrans for sale is a little harder. You'll often find brands like Roosebeck, Mid-East, or Glenluce in shops and online. These can be OK bodhrans, but they are cheaply made and often need some work to sound good.
Luckily, there are plenty of good quality new bodhrans for sale online, at a variety of places. You can order directly from the maker, or buy from a music shop. Some large online retailers also have them, although their selection usually isn't great.
About Painted Bodhrans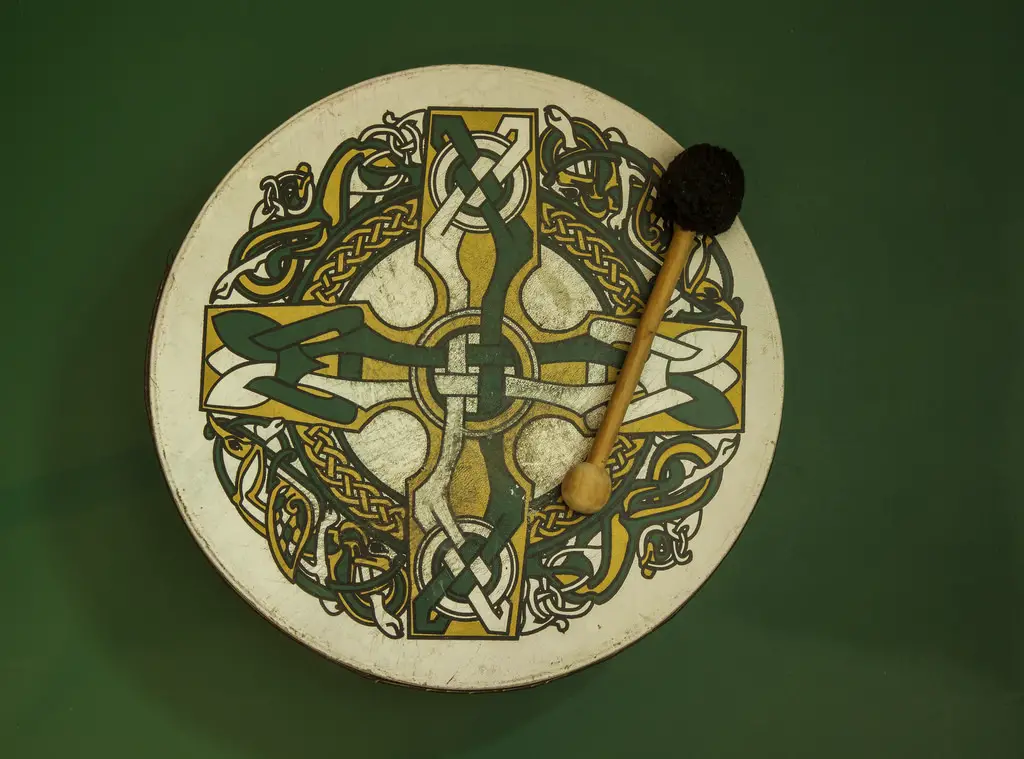 You will often see bodhrans for sale with various designs painted on the head. It seems like every tourist shop in Ireland has at least a few of these lying around, and they're all over Amazon, eBay, etc. They may look nice, but by and large, they don't play well. For one thing, they are usually not tunable, and the skin is usually not tensioned correctly. But the main problem is just that they're cheaply mass-produced from inferior materials.
And while they may look great now, think about what a year or two of regular playing will do to the paint. The skin isn't dyed or imbued with ink, it's just painted over with paint that can and will flake off.
If you're looking for a wall hanging or a souvenir, by all means buy one. Some of the designs do look pretty cool, and they work great as decorations. But if you want to actually play an instrument, look elsewhere.
Amazon has a lot of cheap and, quite frankly, bad bodhrans for sale. But there are also a few good ones, if you know what to look for. Meinl and Remo are both well-known for their other drums, but make very good tunable bodhrans. Also, some of Walton's cheaper bodhrans aren't great, but their tunable 16″ model is fairly good. All are available on Amazon, and if you do a lot of shopping there already (or are a Prime member), the convenience factor is big.
Hobgoblin specializes in folk instruments, and has many bodhrans for sale. While the "Glenluce" brand they carry is one of the cheaper mass-produced brands, they carry bodhrans by Michael Vignoles and Russell Buckmaster (Bridget Bodhrans). They also have some good tunable Waltons bodhrans for sale. The above link is to their US store; they have a UK store as well.
Directly From the Maker
There are many, many bodhran makers out there. Listing all of them would take a while, but some makers have more of a web presence than others. The following bodhran makers all take orders over the web and have clear and informative websites that present what bodhrans they have for sale, prices, etc.
Where to Find Used Bodhrans For Sale
Buying a used bodhran can save you a good bit of money. You do need to be careful, however, if you're buying sight unseen. The best person to buy from is another player, who knows the instrument and can give you honest feedback about it. If you're dealing with someone who doesn't play or know much about bodhrans, try to get someone knowledgable to look it over or give you some advice.
Be sure to ask plenty of questions, and try to get a sound clip or video of the bodhran actually being played before buying. If it's a tunable bodhran, make sure to ask if the tuning mechanism is in full working order, and that it comes with whatever tool you need to operate it.
eBay is the first place a lot of people look to find used bodhrans for sale, but the pickings can be slim. Most of the bodhrans for sale are of the cheap painted variety, and many are mass-produced brands. But plenty of higher-end bodhrans from makers like Metloef, Hedwitschak, and O'Kane do come up for sale on eBay. If you're in the market and patient, you can often snag a good deal by just keeping your eye on listings. Be sure to ask plenty of questions, and use the eBay Buyer Protection Program to your full advantage if you feel you haven't gotten what you were sold.
The Session is the largest online community of traditional Irish music lovers and players. It has a massive database of tunes and recordings, and a very active discussion board. Not only is it a good place to "talk shop," you'll often see bodhrans coming up for sale. One warning: there can be a lot of controversy surrounding bodhran posts. You may get a few snarky comments if you post something. Those are generally in good humor, and you can feel free to ignore them or post a witty comeback.
Bodojo used to be a fairly popular forum dedicated to the bodhran. The website has since gone offline, and the discussions have been moved to their Facebook group. It's still fairly active, and bodhrans come up for sale. It's also a great place to ask for advice, playing tips, or just talk about anything and everything bodhran-related. Unlike some of the other forums, you won't get the normal (usually good-natured) ribbing for playing the bodhran!
Chiff and Fipple is a mostly Irish music forum, mainly centered around the tin whistle, flute, and pipes. However, there's plenty of discussion of all of the instruments of Irish music, and bodhrans come up for sale somewhat regularly. Check out the "Used Instrument Exchange," and post a "want to buy" notice if you're looking for something in particular.